Frequently Asked Questions
How do I know what textbooks, kits or uniform I need for my class?
All course materials for your program - textbooks, kits or uniforms - will be found on your Course Materials list.
To find this, search under Textbooks - Course Materials Search – Select your Campus – Select the Term.
You can either select your program or search by courses (first option, View Courses for all Programs). It's easier if you have your Time Table with you. Once you have located your program, select all courses in the dropdown and select "Go". This will show you all course materials required and/or suggested for your program.
How to order Textbooks? Click HERE!
You may get a list of textbooks you need based on courses you are registered in!
Click on "

My Course Materials List

" in the "

TEXTBOOKS

" dropdown;

Login (student's FOL login/password);




Your customized list of required textbooks is there!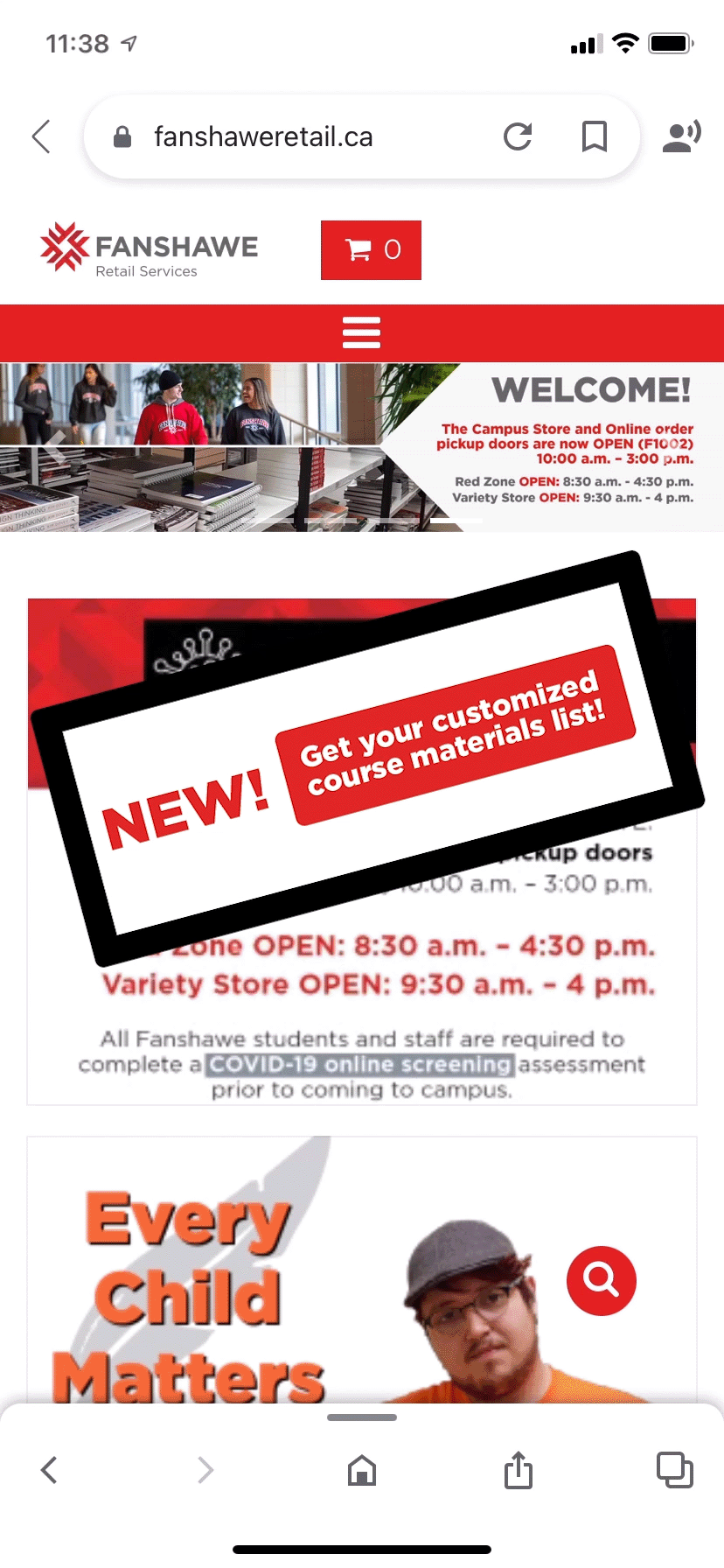 Where do I find digital material or Access Codes?
All digital materials or access codes are found on your book list. Please be careful not to order both the digital and the physical copy of the textbook. If you have any questions regarding which one you need, please contact your instructor.
How do I redeem my Access Codes?
If the access code is emailed to you: Select the link "Redeem Access Code".
> Under Textbooks, select Access Code Redemption.
You will get new access code for website supplied by instructor.
Click HERE for the link to show you how to redeem an access code.
If the access code is a physical card, follow the instructions on the card.
How do I order a book that is out of stock or on order?
If a book is out of stock or on order, you will not be able to order it until it shows that it is back in stock.
Our website is a live site and it continuously updated, so please keep checking.
Will I be notified when my online order is ready?
When your online order is ready for pickup, you will receive an email notifying you. Please have your order number with you when picking up.
How can I track my order if it is being shipped?
If your online order is being shipped, you will receive a separate email with a Purolator tracking number.
Can I cancel my order, or an item on my order?
If you need to cancel an item or your order, please contact the Campus Store at 519-452-4260 or email us at retail@fanshawec.ca.
What is our return policy?
Textbooks – Textbooks can be returned as long as they are in the original condition as purchased, the third week of when your program/course started.
Access codes – Unredeemed access codes can be returned within the first 3 weeks of class. If you have redeemed it, it's up to the discretion of the Campus Store Buyers if it can be returned.
Kits – Kits are non-refundable.
Clothing & uniforms - unwashed/unworn with a receipt.
How do I get a refund for my Meal Plan or Flex Plan?
The Residence Meal Plan cannot be refunded as per the residence contract. Flex Plan can be refunded.
(There is a $50 administration fee)
What are accepted forms of payment?
We accept VISA, MasterCard, Gift Cards and VISA Debit as payment for online orders.
In-store payments: we accept Debit, VISA, MasterCard, Gift Cards and FANCard.
Can I use my FANCard or a Retail Services Gift Card as a payment for online?
You can use Gift Cards and FANCard as payment for your online orders, too.
If paying with gift card you need to enter the card number and pin code when prompted.
When paying with your FANCard, the funds available need to be in your Flex account, not Meal Plan. Please indicate in the Special Instructions section that you would like to use this method of payment. Your student name and student number must also be included.